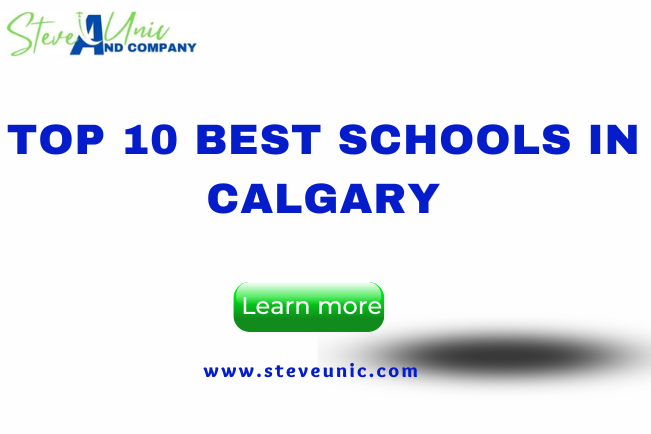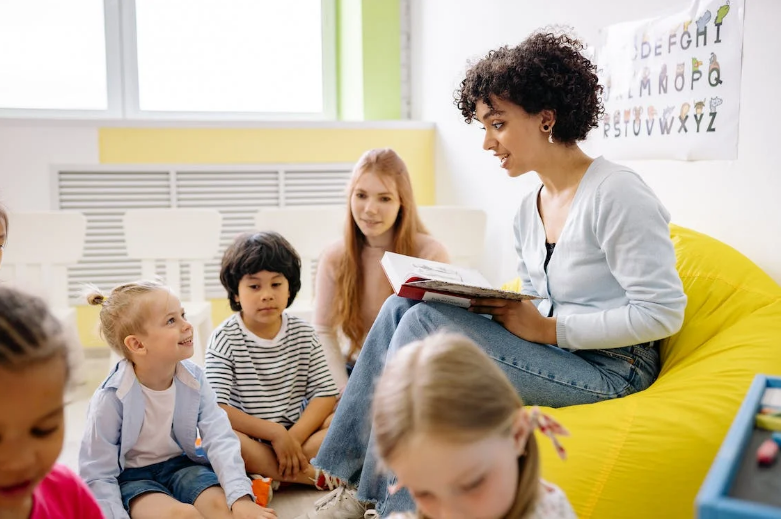 Are you in search of the finest schools in Calgary? As a parent, identifying the perfect school to cater to your child's educational requirements is vital.
To assist you in making a well-informed choice with confidence, we've compiled a list of the top 10 schools in Calgary. This list was curated through thorough research, considering ratings from parents, educators, and teachers, to identify which schools outshine others in delivering high-quality education and innovative learning environments.
Our detailed guide will take you through various aspects such as academic performance, teacher-student ratio, extracurricular activities, safety measures, and more, aiming to guarantee the best possible experience for your child.
We understand that elementary school is a pivotal phase in a student's academic journey. As parents, our goal is to shape a brighter future for our children by making the most of the present, and one way to achieve this is by ensuring they attend top-notch elementary schools.
Disclosure: My site is reader-supported. I may get commissions when you click through the affiliate links (that are great products I use and stand by) on my articles.
Calgary's Educational System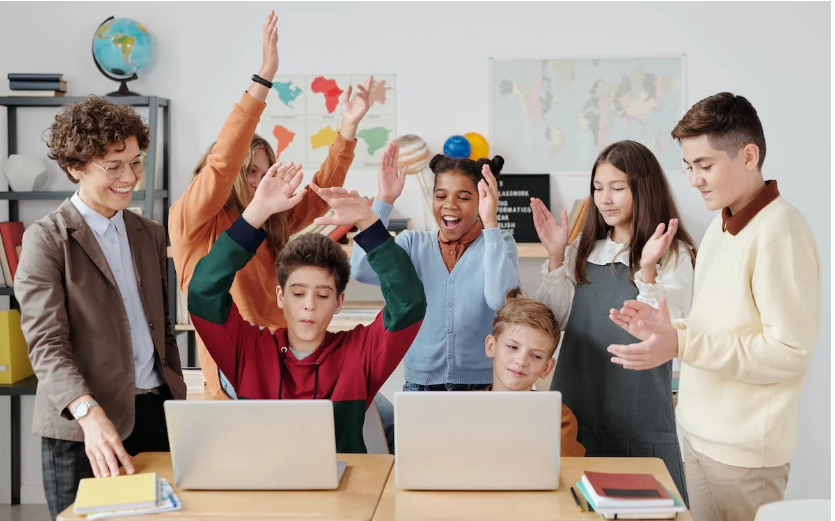 Calgary, one of the world's most coveted cities, boasts a distinctive education system. It comprises elementary, middle, and high school levels. Calgary prides itself on hosting some of Canada's top-notch schools, offering diverse programs from French Immersion to International Baccalaureate.
The city is the seat of the Calgary Board of Education (CBE), renowned as Alberta's largest school district. Approximately 245 schools in Calgary cater to around 124,000 students.
Most schools in Calgary are funded by the government, providing free education to residents of the province. However, private schools also exist, although they require hefty tuition fees that can vary between $3,000 to $30,000 per year.
It's noteworthy that when enrolling your child in any CBE school, the school itself doesn't hold the authority over admissions. Instead, student admissions and registrations are regulated by the Education Acts and Administrative Regulation 6090.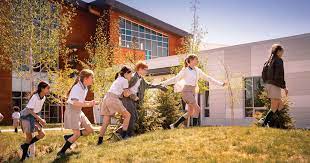 Best Schools in Calgary
Are you in search of the finest schools in Calgary? As a parent, identifying the perfect school to cater to your child's educational requirements is vital.
Calgary, one of the world's most coveted cities, boasts a distinctive education system.
What are the 10 Best Schools Currently Running in Calgary
In the interest of time, let's delve into my list of the top 10 high schools in this city. We'll explore why each of these schools may be an ideal choice and provide you with comprehensive information about them.
For a clearer perspective, I've included both public and private schools to help you make a more informed decision when choosing the right school for your child's academic success.
Let's proceed.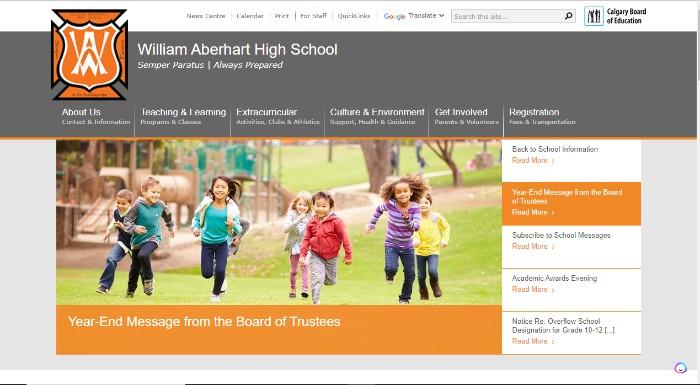 William Aberhart, a distinguished public senior high school, places significant emphasis on academics and indoor activities. As a public institution, it offers tuition-free education. The school spans over 10.2 acres and was built in 1957. It features 54 classrooms, two gymnasiums, a fully-equipped fitness center with classes and memberships for students, a multimedia library resource center, and designated spaces for music, drama, and art.
A distinguishing feature of William Aberhart is its focus on athletics, offering numerous sports teams for student participation. This activity has fostered strong relationships between students and teachers, leading to a low student-teacher ratio.
One aspect that stands out about this school is its culture of challenge. It encourages students to push their boundaries academically, backed by the unwavering support of dedicated teachers committed to student success.
The school also provides unique programs such as the International Baccalaureate program, preparing students for a globalized world, the Academy of Science, Technology, Engineering, and Math (STEM) aimed at fostering creativity and analytical skills, and the Homerun program, which focused on developing leadership and teamwork skills.
Extracurricular activities take the form of clubs such as the Robotics team, Debate club, NASA space club, and various sports like badminton, soccer, rugby, hockey, basketball, etc.
William Aberhart accommodates 1283 students and offers grades 10-12.
Address: 3009 Morley Trail NW, Calgary2, AB, T2M 4G9
Email: williamaberhart@cbe.ab.ca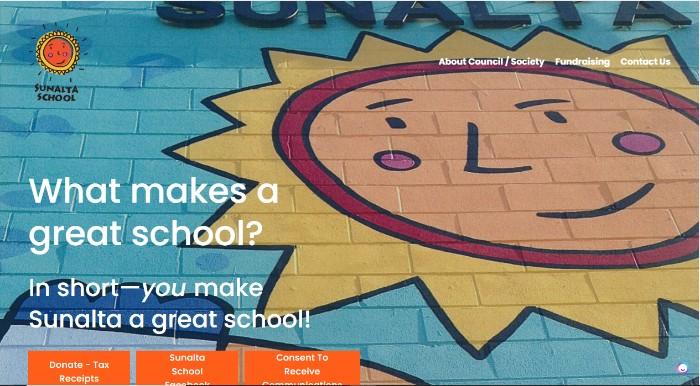 Sunalta School is a public school that provides public education in its elementary and secondary schools and fosters academic excellence among students. With over 100 years of experience, it provides physical education from junior kindergarten up to grade 6
an excellent school that provides quality education to its students. It has a strong academic program and offers various extracurricular activities, clubs, and sports teams.
The school believes in providing a safe learning environment with a positive atmosphere where every student can thrive. Its motto is "Learn, Grow, and Succeed."
At Sunalta School, teachers go beyond the curriculum and strive to create meaningful learning experiences for their students. They also encourage a culture of respect, collaboration, and acceptance among all students.
Extracurricular activities available to students like robotics, photography club, music lessons, Badminton, and basketball team, and also a strong fine arts program emphasizing creativity and expression,
Sunalta School has Enrolled 336 students and offers grades K-6
Address: 536 Sonora Ave SW Calgary, AB, T3C 2J9
Email: sunaltaschool@cbe.ab.ca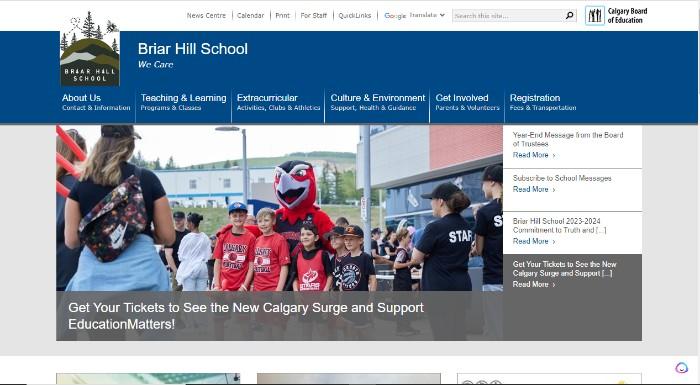 Briar Hill School is a public school located in Northwest Calgary that serves Grades 1-6. Founded in 1965, the school has grown significantly over the years and now caters to over 300 students.
The school offers an outstanding educational experience, with special emphasis placed on technology, arts, and physical education. The staff at Briar Hill School are dedicated to creating an inclusive learning environment where all students can achieve their full potential.
They promote respect and encourage active participation in the school's culture and community.
Briar Hill School features remarkable clubs, which pique students' interest and provide them with invaluable knowledge about various subjects. These clubs include:
· The CCC Club – Cleaning and Caring Club
· Intramurals
· Newsletter Club
· Ukelele club etc
Application to Briar Hill School is through the Calgary Board of Education (CBE).
Email: BriarHill@cbe.ab.ca
Address: 1233 21 St NW Calgary, AB, T2N 2L8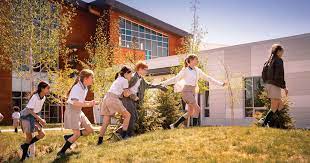 Best Schools in Calgary
Are you in search of the finest schools in Calgary? As a parent, identifying the perfect school to cater to your child's educational requirements is vital.
Calgary, one of the world's most coveted cities, boasts a distinctive education system.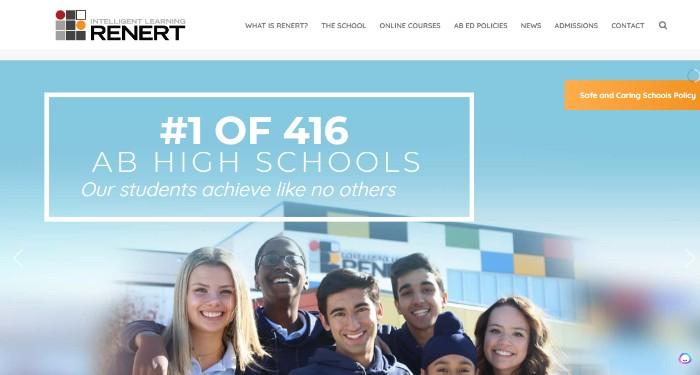 Renert School is a top-rated private institution located in Calgary, Alberta, Canada. Founded in 2013 by Dr. Moshe and Dr. Rinat Renert, the school's vision was to provide a comprehensive education that fosters cognitive, social, and emotional growth in students. The school's motto is "Inspiring Lifelong Learning."
Renert School has around 500 students, ranging from kindergarten to grade 12, with a student-to-teacher ratio of 10:1. This favorable ratio ensures that each child forms valuable relationships with their teachers.
The school is renowned for its strong academic program, particularly its emphasis on developing critical thinking skills. It also offers an extensive fine arts program, including music, drama, and visual arts.
Renert School's students consistently perform well on the Provincial Achievement Tests (PAT) administered by Alberta Education, which is a testament to their exceptional academic program. Students at Renert School have scored significantly higher than the provincial average in recent years.
Furthermore, Renert School is known as Calgary's leading mathematics school, thanks to its commitment to joyful learning and academic rigor in all fields.
To be admitted to the school, applicants must complete an application form, provide the required documents, and pay a non-refundable application fee of $100.
Address: 14 Royal Vista Link NW Calgary, Alberta T3R OK4
Email: info@renertschool.ca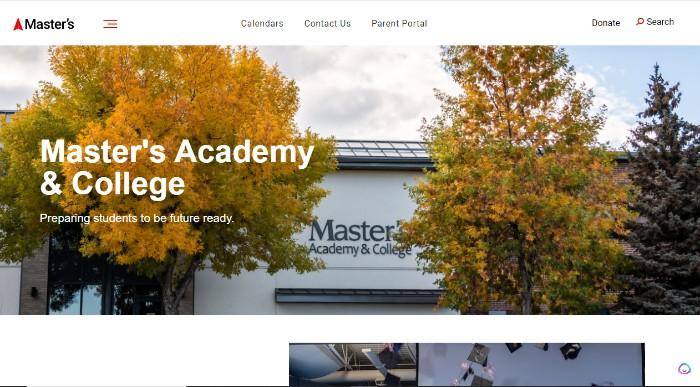 Master's Academy and College is a highly esteemed institution renowned for its outstanding performance in academics, athletics, and extracurricular activities. This independent school is guided by Christian values and aims to provide students from grades 5 to 12 with exceptional instruction in faith, knowledge, character, and service.
Established in 1997, Masters Academy offers not only physical education but also academic excellence, with the goal of developing lifelong learners who can make a difference in the world.
At Masters, students receive high-quality education and access to excellent learning resources that help them achieve their academic goals. The teachers are passionate about instilling in the students a thirst for knowledge and equipping them with skills vital for lifelong success.
To provide comprehensive education, the academy exposes students to a wide range of extracurricular activities such as chess club, robotics club, choir and band programs, drama and theatre productions, and various sports teams. Notably, the choir and band programs are particularly impressive, and 90% of the school's graduates have been accepted into their university of choice.
The academy has an interesting family bond program that encourages families to purchase bonds or make donations to the school. For one child, the bond is $7,000; for two children, it's $8,500; and for three or more children, it's $10,000. The annual tuition fees for grades 1-12 stand at $7,850.
Master's Academy and College caters to grades K-12.
Address: 4414 Crowchild Trail SW Calgary, AB Canada, T2T 5J4
Email: registrar@masters.ab.ca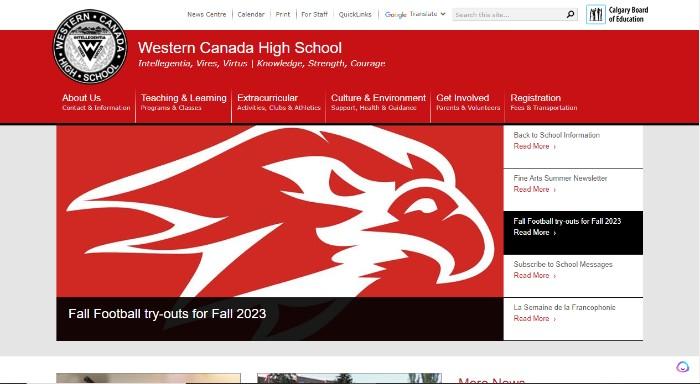 Western Canada High School is a public institution that provides a wide range of educational opportunities and is dedicated to giving its students a top-quality education that will prepare them for learning throughout their lives.
The school takes pride in its world-class curriculum, inclusive of International Baccalaureate, Advanced Placement, and French Immersion programs. It has consistently been ranked as one of the top academic institutions in Alberta over the years.
But why is it so?
Their growth and capacity building since the early 1900s has been commendable. They have maintained their reputation through their comprehensive student preparation and deep learning impartation. Their motto, "intelligentia, Vires, Virtus- Knowledge, strength, courage," truly reflects their ethos.
The school offers over 20 extracurricular activities, featuring clubs like maths, chess, robotics, space exploration, music and drama, community service projects, and more.
Recent renovations at Western Canada High School have added a new library commons area with amphitheater-style seating for presentations and lectures. The school also houses a dedicated fitness center to encourage healthy lifestyles, a multimedia lab for digital media projects and presentations, and several classrooms equipped with the latest technology.
Western Canada High School enrolls 2150 students and caters to grades 10-12.
Address: 641 17 Ave SW Calgary, AB T2S 0B5
Email: westerncanada@cbe.ab.ca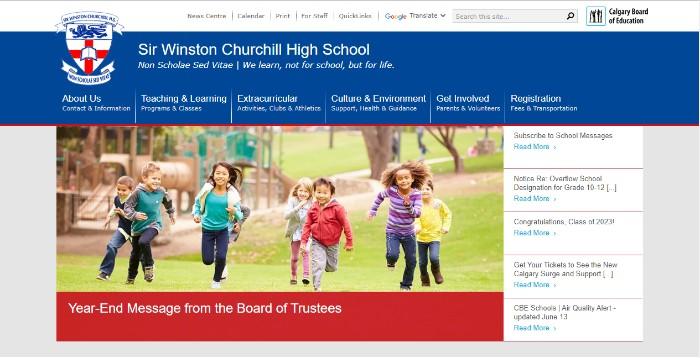 Sir Winston Churchill High School, named after the former prime minister of the United Kingdom, is a renowned public school situated in Calgary, Alberta. Established in 1965, it has grown to be the largest high school in the city with over 2,307 students currently enrolled.
The school provides courses from grades 10 to 12 and several other programs such as International Baccalaureate (IB), Advance Placement (AP), and the International Student Program. Sir Winston Churchill High School offers various courses in core disciplines, electives, and special programs like art, band, drama, language studies, physical education, and technology education.
Apart from academics, Sir Winston Churchill High School boasts an impressive variety of extracurricular activities to cater to its diverse student population. Its motto, "Non-Scholae Sed Vitae," translates to "We learn, not for school, but for life." The school's goal is to prepare its students adequately for post-secondary academic pursuits and the world beyond.
Address: 5220 Northland Dr. NW Calgary, AB, T2L 2J6
Email: sirwinstonchurchill@cbe.ab.ca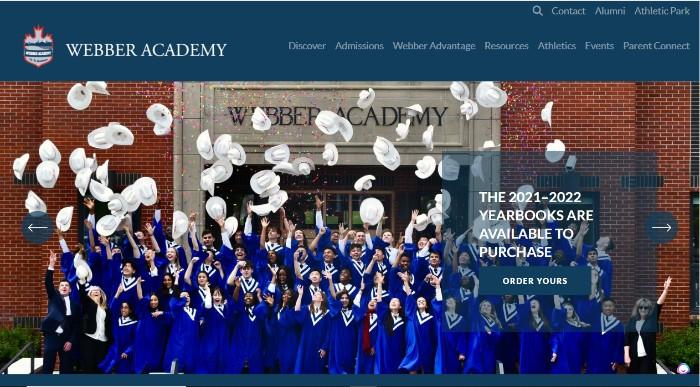 Webber Academy, founded in 1996 by Niel Webber, is a private school dedicated to promoting the growth and development of traditional values in students with an emphasis on academic excellence. The school offers a pre-kindergarten program for children aged four and older, as well as grades K-12.
Webber Academy's curriculum is a blend of traditional and modern learning approaches that include project-based learning, technology integration, and critical thinking skills development.
The school boasts several facilities, including a Kindercentre for younger students, a main campus building with two large gymnasiums for Grades 1-12, a state-of-the-art Senior School Science Centre, a 500-seat Performing Arts Centre, a 400-meter running track, a soccer field, and cross country trails through the aspens.
The admission process at Webber Academy requires applicants to pay a non-refundable $250 application fee and submit an online application form, transcripts from the last two academic years, test scores (if applicable), teacher/counselor evaluation forms, and attend an in-person assessment for all applicants to Grades K-8.
While Webber Academy's tuition fees may seem high with junior kindergarten fees at $18,000 and senior kindergarten to sixth-grade fees at $18,400 per year, parents and guardians can take solace in the fact that their child will receive a top-notch education with a focus on traditional values and academic excellence.
Address: 1515 – 93rd Street, S.W. Calgary, Alberta T3H 4A8
Contact: 403 277 4700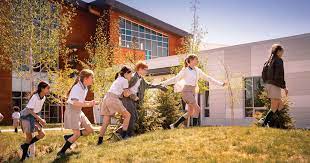 Best Schools in Calgary
Are you in search of the finest schools in Calgary? As a parent, identifying the perfect school to cater to your child's educational requirements is vital.
Calgary, one of the world's most coveted cities, boasts a distinctive education system.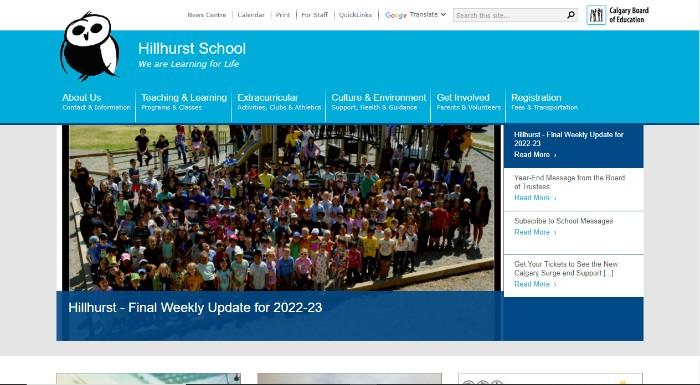 Hillhurst School, located in Northwest Calgary, is a public K-6 school that has the distinction of being the oldest continuously operating school in Alberta, having been built in 1912.
The school offers a variety of academic courses, music programs, and extracurricular activities like sports and clubs. Hillhurst School is also one of the few schools in Calgary that offer the International Baccalaureate Primary Years Programme (IBPYP).
Hillhurst School's administrators and teachers are devoted to providing a supportive and conducive learning environment, with a strong emphasis on respect for all students. They believe that teamwork, effective communication, problem-solving, and self-confidence are crucial in helping children achieve their educational objectives.
With an enrollment of around 262 students, Hillhurst School offers Gifted & Talented Education (GATE) programs and has a motto that states "We are learning for life." The school has unique clubs like the Photography Club, 3D Printing, and Robotics, among others, enabling students to explore their interests and enhance their skills.
Address: 1418 7 Ave NW Calgary, AB, T2N 0Z2
Email: Hillhurst@cbe.ab.ca
Bearspore Christian School is a privately-owned educational institution that places significant emphasis on providing students with quality learning experiences. Additionally, the school aims to foster character development in students to help them become accountable members of society.
The school provides both required and optional courses, such as art, technology, physical education, and science. Additionally, Bearspore Christian School incorporates religious teachings into all classes and features Biblical study in the entire curriculum.
The school has a committed staff who help students achieve their best through personalized learning plans and small class sizes. With that, they motivate students to engage in community service, fundraising, and other events.
Being one of the most affordable Christian schools In Calgary, the main goal of this school is to combine religious teachings with academic excellence. To begin the application process, you must complete a registration form and pay a $5000 fee that also includes a knowledge test. This will ensure your enrollment if space is available.
Half of that is refundable while the other half is not, their kindergarten pays $3000 while grades 1-12 pay between $7350 to $8350.
Address: 15001 – 69 Street NW Calgary, AB T3R 1C5
Email: info@bearspawschool.com
Frequently Asked Questions
How do I choose the right school for my child in Calgary?
The best way to determine which school is right for your child is by considering various factors such as the school's academic curriculum, extracurricular activities offered, and its location.
You must research online reviews and visit the schools to get a better understanding of what they have to offer. Ultimately, pick a school based on what you've researched and found about them
How does the admission process work for the top schools in Calgary?
The admission process for top schools in Calgary may vary depending on the institution.
However, some general tips include submitting applications early, ensuring that all necessary documents are ready to be uploaded, meeting the school's admission requirements and eligibility criteria, and completing the required admission forms.
Are there any scholarship opportunities available for students at the best schools in Calgary?
Yes, Scholarship programs are available at several leading schools in Calgary, with awards given based on factors like academic merit or financial need.
It is important to directly contact the school for more information about scholarship opportunities from outside organizations such as educational foundations and corporations.
What is the tuition fee for the top schools in Calgary?
In general, tuition fees for schools in Calgary can vary significantly depending on the level of education and type of institution.
Public schools in Calgary, which are funded by the government, generally do not have tuition fees; however, they may charge fees for transportation, student supplies, and other ancillary services. On the other hand, private schools in Calgary are more expensive than public schools and typically charge tuition fees.
These fees can range from around $3,000 to $26,843 CAD per year, depending on the school and grade level. Additionally, there may be additional costs such as application fees, registration fees, and other school-related expenses. It is essential to research and understands the various fees and payment policies for each institution before enrolling or applying to avoid any unexpected expenses.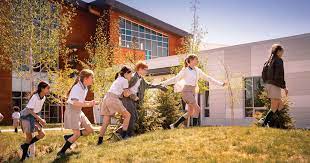 Best Schools in Calgary
Are you in search of the finest schools in Calgary? As a parent, identifying the perfect school to cater to your child's educational requirements is vital.
Calgary, one of the world's most coveted cities, boasts a distinctive education system.
Conclusion
Well, folks, We have just embarked on an enlightening journey exploring the top 10 schools currently situated in Calgary. Undoubtedly, you found this piece both informative and entertaining!
While rankings and statistics can be significant factors when narrowing down your child's educational options, it is critical to remember that they are not the only things that matter. Visiting schools in person, conversing with admission personnel, and gaining personal experiences are all essential aspects of the decision-making process.
Ultimately, the best school for your child will be the one you choose after considering all pertinent information. In Calgary, schools prioritize their students' achievements in various areas, including academics, sports, and the arts, leading to Calgary being widely recognized as one of Canada's foremost cities for education.